The perfect landing page: A template
Ready to start building your landing page? Here are the 8 things you'll need to include to stand the best chance of converting visitors into leads…
The 8 things every landing page needs
A landing page template to help you nail it each and every time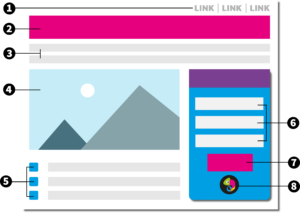 Links
Less is more here – you want to use two or three, max. Make them relevant too. So a link to your homepage, a link to more reviews or testimonials, and maybe a link to the product page. And leave it at that.
Main headline, or H1
Keep it short and snappy, but elicit the feels. You want to build an emotional connection, but don't prey on people's fears. Focus on the benefits of your offer, and maybe even use a quote from a previous customer.
Testimonial or customer review
Your previous happy customers are your best copywriters, so choose one of your best customer reviews and use that as a strapline. People want to know what it's like to buy from you, so let them hear it from somebody who has already experienced it.
Main image/video
Whether you want to use eye-catching graphics, a video showing the product being used, or a lifestyle image of a happy customer, make sure your main image or video is relevant and of a good resolution.
Bullet-point benefits
Rather than talking about the features of your product or service, talk about the benefits in relation to the problems you help solve. Use simple language, and keep it short and snappy to ensure skim-readers get all the salient details in as short a time as possible.
The lead-capture form
This is what your landing page is all about, so make sure your lead-capture form is easy to find and identify. When building this, try to keep the number of fields to a minimum. Research says three fields is the best number for converting visitors into leads, so ask for first name, email address and one other relevant piece of information.
The CTA
The call-to-action button is what it's all about, so make it count. Keep the language straightforward and honest. Avoid trying to whip up any FOMO, and stick to the basics of telling people what will happen when they click, whether that's 'Add to basket', 'Download the guide' or 'Get it now'.
Company logo
Visitors to your landing page are more likely to convert if they know who they are handing over their details to, so be sure to include your business name in the title tag of the page, and your logo somewhere prominent. Make it clickable, too, so anyone who wants to find out more about your business can visit your homepage.
Writing an effective landing page
You'll find plenty more tips on how to write the content for your landing page over on our blog post, How to write a landing page. Or check out the other blogs in our Landing Pages: Everything you Need to Know series below.
| | | |
| --- | --- | --- |
| Part 1: | Landing Page Statistics for Small Businesses | |
| Part 2: | What is a Landing Page? | |
| Part 3: | How to Write a Landing Page | |
| Part 4: | How to Drive Traffic to a Landing Page | |